Altegrosky
129085, Москва, Звездный бульвар, д. 19, стр. 1
AltegroSky provides a wide range of cutting-edge telecommunication services and solutions for commercial organizations, telecom operators and government: high-speed satellite Internet access, VoIP, corporate networking, telemetry, video and audio conferencing, video surveillance, multicasting, mobile VSAT (including Maritime), backup communication links, dedicated backbone satellite links, ground station lease. Having a huge expertise in satellite communication we can also propose to build satellite infrastructure for provisioning of communication services and also to suggest managing Satellite Operational Centers (NOC, Hub) for other providers and Clients having such Centers.
GC AltegroSky on VSAT market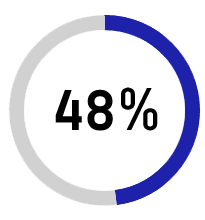 B2B
The corporate market is currently forming the greatest demand. Growing demand for satellite communications on the move: maritime (northern sea route), rail (TV broadcast, Internet access), aviation (IFC, IFE).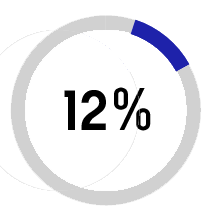 B2O
Provision of services to other communications service providers.
B2G

Fulfillment of Federal programs, development of public health, social policy of the State (Elimination of digital inequality), provision in emergency situations.

B2C

VSAT Mass Market
OPERATOR'S SHARE ON THE RUSSIAN MARKET
OF SATELLITE COMMUNICATIONS
AltegroSky has satellite networks operating in DVB-S2/S2X standard, working through 8 Russian and 2 European satellites: Yamal-402 at 55°E, Yamal-401 at 90°E, Yamal-300K at 183°E, Yamal-601 at 49°E, Express-AM8 at 14°E, Express-AMU1 at 36°E, Express-AM5 at 140°E, Express-AM33 at 96,5°E, NSS 12 at 95°E, Eutelsat-172B at 172°E; providing full coverage of Russia and Eastern Europe territory.
A wide range of equipment by world's leading manufacturers of broadband satellite systems: Hughes Network Systems LLC (HN, НХ, HT), ST Engineering iDirect Inc. (Evolution, Velocity, NewTec), Gilat Satellite Networks Ltd. (SkyEdge II-c), Comtech EF Data Corporation, Paradise Datacom, NJRC, Terrasat, C-Com and others.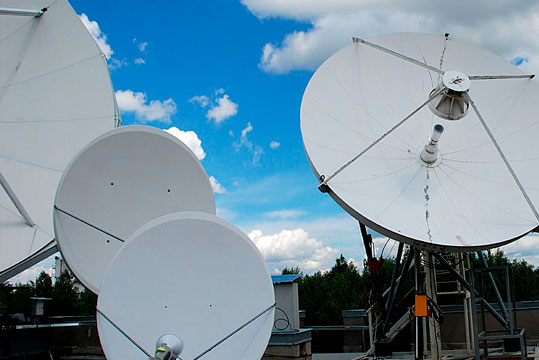 AltegroSky today:
All segments of Russian Satellite market: B2B, B2G, B2O, B2С;
More than 9 300 corporate customers;
About 27 400 subscriber's satellite terminals;
More than 960 certified partners.
Technical features of AltegroSky network
20 Network control centers
Including Moscow (10), Khabarovsk (5), other cities (5)
Own access points on ММТS-9 and MMTS-10.
Standard DVB-S2/S2X
Satellite networks of DVB-S2, DVB-S2X standard
for 8 Russian and 2 European Satellites.
Network Bandwidth:
satellite network segment - more than
6 Gbit/s
ground segment of the network - more than
50 Gbit/s
Network reliability
"Hot" standby. Due to the use of "hot standby" of the equipment, continuous operation of the DCC is guaranteed.
Network availability. A high degree of network availability - more than 99.5% - ensures the use of the principle of interchangeability of satellites operating on a single proprietary AltegroSky platform.
Satellite redundancy. Use of satellites with overlapping by service areas. If one satellite fails, the VSAT can be transferred to another satellite.
Technologies
HUB-dependent
Hughes Network Systems
Full-featured network services using IPv4 protocol (with IPv6 support);
Data download at speeds up to 25 Mb/s, Upload up to 4 Mb/s for each VSAT terminal;
The number of terminals on the network is 10,000 or more;
VoIP service with DID numbers;
A high level of information security;
A wide range of end-to-end management;
Compliance with the leading industry standard IPoS / DVB-S2.
ST Engineering iDirect (Evolution / Velocity)
Full-featured network services using IPv4 protocol (with IPv6 support);
Data download at speeds up to 45 Mb / s, Upload - up to 10 Mb/s for each VSAT terminal;
The number of terminals in the network - 1000 and more;
Organization of dedicated networks;
Flexible traffic prioritization capabilities;
Dynamic redistribution of heterogeneous traffic in the constructed networks in the optimal way;
The transfer of telephony, videoconferencing, etc., with the usual transfer of data on a non-conflict basis;
Compliance with industry standard IPoS / DVB-S2.
Hubless. SCPC
SCPC (Single Channel per Carrier)
SCPC (Single Channel per Carrier) is a classic satellite communication technology.
Compliance with the leading industry standard DVB-S2 & DVB-S2X.
It is intended for communication of two earth stations in the topology of "point-to-point". The "exclusive" frequency bands are used only by attached earth stations and can not be used by others.
Organization of backbone channels with a throughput of download/upload up to 360/360 Mbit/s.
The technology C-in-C (mode carrier in the carrier) is applied.
Hot redundancy of VSAT equipment.
At the request of the customer it is possible to implement the options:
ACM (adaptive modulation)
Mesh (topology of the network "each with each")
MCPC topology "star" with fixed return channels
Our Clients
| | |
| --- | --- |
| CJSC Russian Standard Bank | OJSC VTB Bank |
| OJSC Transneft | JSOC Bashneft |
| OAO RAO UES of Russia | OJSC Russian Railways |
| | |
| --- | --- |
| Sberbank of Russia | OJSC Zapsibkombank |
| Shell | TNK-BP Holding |
| OJSC VimpelCom | Halliburton Company |
GC AltegroSky - your reliable partner in the satellite communication Russian market!